With school starting this week there are going to be a lot of milestones and memories to capture. As this is our first time at school I don't know what to expect, but don't want to miss anything, so I've been collecting ideas on Pinterest (on both my memories and school scrapbook boards). There are so many good ideas, that I feel a bit overwhelmed at doing them all at the start of the year, plus it would lead to a collection of memories unbalanced to the start of the school year.
I've developed 5 stages when I'm going to collect information, and I'll use this to produce scrap pages to go into a school scrapbook for B, and some of them will probably go into the family year book as well. I will be using a lot of the recommendations in digiDoer eBook: School Year to store the photographs and information, because I put the folder structure in place last year, although it is currently very simple for pre-school and nursery.
[download id="1927″ template="button"]
Stage 1 – start of school
This stage is about capturing details about the school and the class as well as B's ideas about the school year and what she wants to be when she is older.
Here are some of the ideas that inspired me
Stage 2 – birthday (November)
I want the information on her birthday to be about her and what she likes and doesn't like; those things that will probably change significantly during the next 13 years.
Some of the ideas that inspired me:
Stage 3 – New year
I really like the idea of reviewing the previous year and looking ahead, but as B's birthday is in November I wonder if this will be too close, and whether the idea of looking forward is covered in Stage 1 and looking backwards in Stage 4. However, I'll give it ago and see how it works.
My inspiration: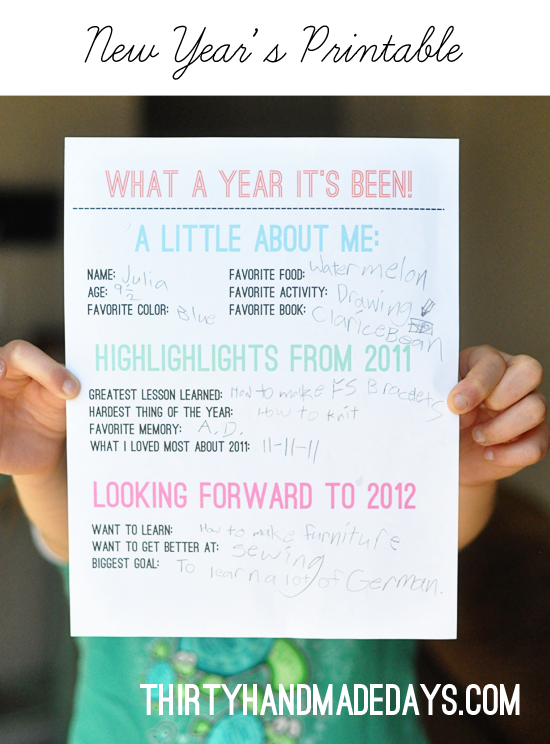 Stage 4 – Finish school
This stage is about reviewing the year, the key events, achievements and how B has changed, I suspect this could be significant during the first year due to the amount of change. I love the comparison of photographs from the start and end of the school year, like these:
Stage 5 – Specific events
I'm sure there will be plenty of other events I'll want to document, so this is the 'Other' stage. By the end of the year I'm sure I'll have a good idea of what fits in here, but at the moment I've just made some guesses. Plus, I don't know whether I'll be able to take photographs so these may need to be written memories.
I'm aware that once school starts I may want to change the content of our school scrapbook, but my priority at the moment is to collect enough information so I have options later in the year. What information do you capture through the school year? Where do you store and display it? Do you think I've missed anything?